Elite Basketball Camps
What are Elite Basketball Camps
The off season is the best time for basketball players to improve their game. Attending Elite Basketball Camps are a great opportunity to learn new basketball skills while improving existing skills. If you are serious about improving your game, you should consider attending an Elite basketball camp (sometimes  called "High Intensity Camps"). Elite basketball camps are most often by invitation only. This usually means that the host will want to ensure that you already have basketball skills. With Elite Youth Basketball Camps a player knows right up front that the competition will be tough, and they will have to push themselves to work hard. If you are serious don't waste your time at a camp where you will dominate weaker players – attend a camp that will push you to the limit. Don't forget to sign up early – they usually fill up fast!
Basketball Players – What it takes to succeed!
Elite Basketball Camps Info / Notes:
If your game needs a "boost" try participating in Elite Basketball Camps (as many as possible). Most Division I and II colleges have annual summer "Elite" camps. You will have to contact the college and download the information. Registration is mainly performed on-line.
 Players should inquire about the following:
1. How many players per coach (instructor)? * If there are too many players per coach – there will be less attention for you.
2. How much "one on one" instruction will you receive? * You need specialized personal instruction, if it's not available, keep looking.
3. Will there be a written evaluation of your skills available at the conclusion of the camp? * The evaluation is very important, it can remind you of what you need to work on, and may possibly be used on your basketball resume?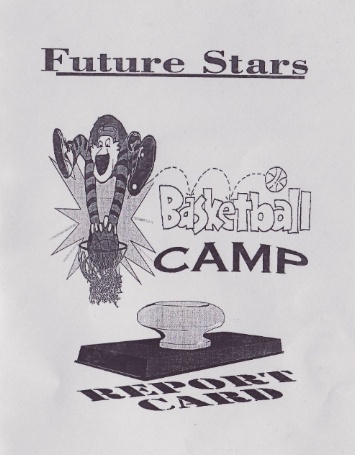 VIEW A SAMPLE REPORT CARD FROM THE FUTURE STARS CAMPS
4. Review the camp agenda – write down any other questions that you need answers to. * You want to make sure that there are no surprises when you get to the camp!
5. What are the costs involved? Registration Fee's can run anywhere from $300 to $475 (sometimes even more). * Will you need money for food? Key Deposit? for the Basketball Store?
Notes:
Players usually will need a letter of recommendation from their high school and / or AAU coach verifying that they are in fact an "elite" player. Make it fun; sign up with a friend or teammate (another player that will work just as hard or harder than you). Read the camp brochure, make sure you bring the items listed, (and more), etc. Workout and prepare yourself for the camp – it is expected that you will show up with solid fundamental skills. Set a goal for the camp, what do you hope to achieve? When you return from the camp, perform a self evaluation to see if you achieved your goals? Or not?
Elite Basketball Camps – A Testimonial
* A few years ago, my daughter signed up for an "Elite" camp called the "Final Exam." It was very different from the other camps in that there were about 5-6 top college coach's (from Penn State, Villanova, U-Conn, Purdue, etc.) slated to give lectures on important topics. Skills and drills were covered and explained in detail, but the best part were the lectures – hearing from top college coach's (Connecticut, Boston College, etc) on what it will take to become a Division I player (this was very impressive). My daughter thought that this was an awesome experience. This "Elite" camp was well worth the money and the long drive! My daughter was very motivated after attending this camp, and found the initiative to work even harder than ever.
Sample Elite Basketball Camps / Agenda:
Head Instructors: Don Smith – Head coach University of Arkansas 2001 Graduate of UNC, 2nd on USA Dream Team voting. Dan Smith – 2003 College All Stars, Head Coach for the AAU Summer Games
ELIGIBILITY: Players must include in their camp application a letter of reference from a basketball coach indicating that they are an Elite player in skill and attitude and ready to be challenged to take on the rigors of an intense camp.
FEATURES: Team Building and Leadership Individual competition Team competition Individual Guard/Post moves Shooting skill development Video analysis Written evaluation Acceleration Training Recruiting Seminar $425.00 per player (includes room & board and acceleration training)
Suggestion – How to search for Elite Basketball Camps:
* Type in a college name on a search engine – Ex: Duke Women's Basketball. Once you get to the Colleges main website, find the Athletics section, then either go to Men's or Women's basketball, look for camps (Summer Camps, Elite Camps, etc). Larger schools will almost always host an elite camp (also called "Intensity Camps"). Camp brochures and forms are usually available for download (print them out). Once you have a few brochures, start comparing the information and make some decisions.
Example Link to a College Elite Camp – http://www.dukegirlsbasketballcamp.com/
Note: Make sure that you verify that the camp is an "Elite" camp prior to signing up. You don't want to show up and find out that you are attending a camp with beginners or very young players, etc.
Conclusion:
Elite Basketball Camps can put things in perspective for a player – Do you have the skills to compete against top players? Are you one of the top players? Are you motivated enough to push yourself to improve your game? Is this something you want to continue doing at the college level? All these questions can certainly be answered by learning and playing against the best of the best! Go for it!

Elite Basketball Camps